Hazards from post-CZU-fire debris flows
Having suffered through the destruction and disruption caused by the CZU Lightning Fire, San Lorenzo Valley, as well as all areas in and around the burn zone, are subject this winter to a new hazard that has the potential to effect even larger numbers of people: debris flows sourced in burned watersheds.
What are debris flows?
Debris flows (a.k.a. mud flows) are commonly caused by intense rainfall that erodes and mobilizes loose soil or rock on steep slopes, with the resulting slurry of water, mud, sand, gravel, and, in the case of post-fire landscapes, ash being channeled into creeks and rivers. Debris flows travel at high velocities (faster than you can run) and cause severe damage in areas they inundate, in part because they can transport large boulders and logs that destroy buildings and infrastructure on impact. Recently burned areas are prone to debris flows because the fire removes vegetation holding the soil in place, so that heavy rainfall washes debris from slopes. It takes much less rainfall to trigger debris flows from burned watersheds than from unburned areas because ash and the waxy residue of burned plant material on the ground surface are hydrophobic, causing water to sheet off rather than soak into the ground. Any storm that produces a bout of intense rainfall greater than about ½ inch per hour poses the risk of producing debris flows. Low-lying areas downstream from the burned area are at risk from being inundated by debris flows.
Is your home in danger from debris flows this coming winter?
It is easy to find out because in late August the U.S. Geological Survey released to the public its preliminary assessment of debris flows hazard in the CZU Fire burn zone. This allows people living in and near the burn area to determine whether homes and businesses are at risk from debris flows this coming winter. This interactive map has 6 layers that show the results of modeling the probability of debris-flow generation in watersheds of creeks within the CZU burned area and the volume of debris flows generated at both the watershed (basin) scale and for particular segments of the creeks. Combining these modeled values, they come up with an estimate of the hazard (low, medium, or high) from debris flows.
By zooming in on the interactive map you can find your home or business and determine your hazard from debris flows during an intense rain storm this winter!
How the hazards assessment model is constructed
The model is based on empirical formulas derived from observations of historic debris flows, with variables being soil type, area drained, steepness of slope, overall area burned, and the proportion of steep areas that are severely burned. Soil types range in their susceptibility to erosion. The larger the basin, the more debris can be eroded. The more severely burned an area, the more rainfall sheets off the surface of the burned soil, and the more the soil, rocks, and downed trees are exposed to erosion.
How to use the map
Clicking the icon in upper right corner of the map that looks like a stack of papers gives you 6 choices for versions of the map. Each map is divided up into shapes that represent the watersheds of each creek in the CZU burn area. The Basin Probabilities gives the probability there would be a debris flow during an intense winter rainfall event (one in which the rainfall rate was about 1"/hour for 15 minutes) in the whole basin; Segment Probabilities are for particular segments of the creek. Basin Volume and Segment Volume are the predicted volumes of a debris flow that would initiate in the basin or in a particular segment of the creek. The Basin Hazard and Segment Hazard are estimates that take account of both the probability of there being a debris flow and the size of the debris flow. For example, if the probability is high and the volume is low, the hazard will be moderate.
Areas without color within the burn area are mostly areas that aren't basins, i.e., they are ridges between basins. You can still get debris flows there, but they won't be large volume because the debris can come only from the slopes above, as opposed to being washed down from a basin of many square miles. You can get a sense for the likelihood for the uncolored areas in the burn zone producing a small debris flow by looking at the Basin Probability layer in the map, and checking the probabilities for adjacent basins.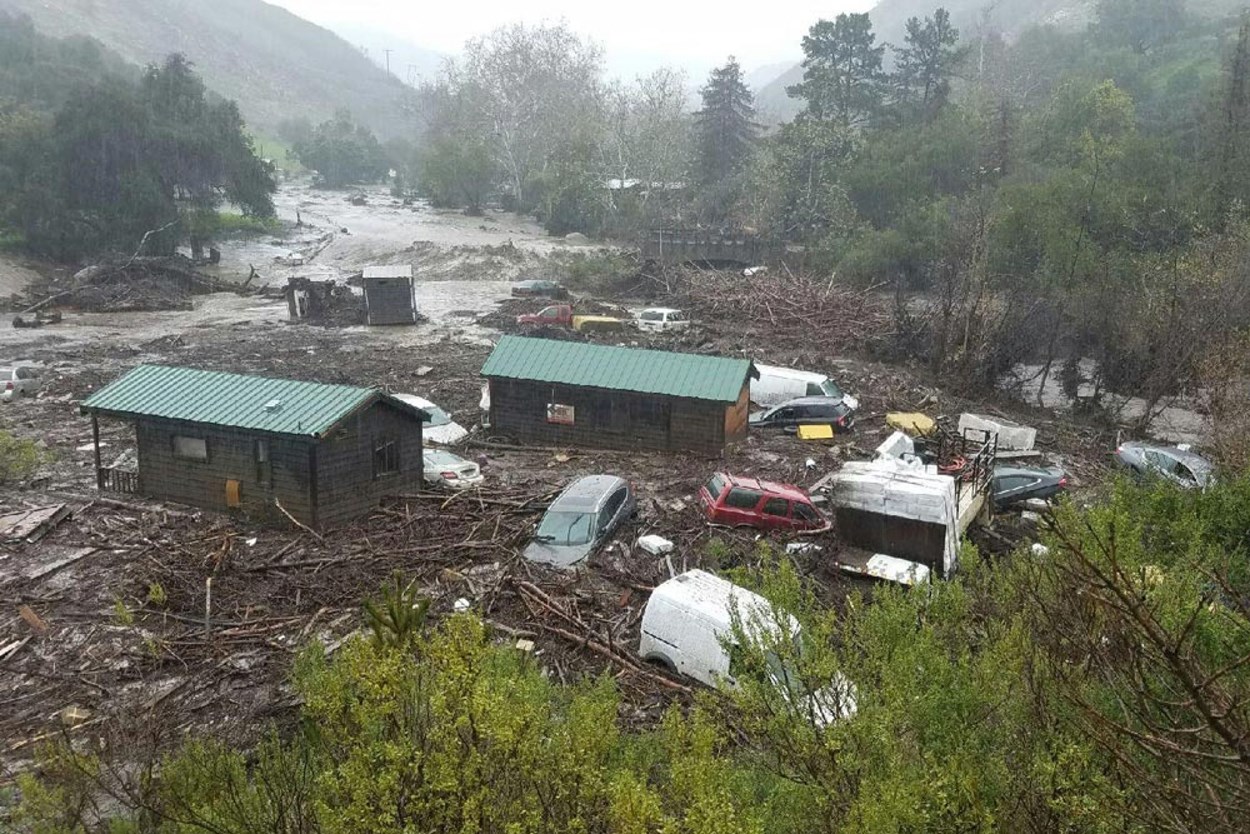 Using the map to assess debris flow hazards outside the CZU burn area
One can anticipate what areas are at risk from debris flows outside the CZU burn zone, because "debris flows flow where water goes." This coming winter, areas
outside
the burn area can be subject to debris flows in four ways: (1) Low-lying areas along creeks with headwaters in the burn area; (2) areas where creeks with headwaters in the burn area spill out from the mountains onto flatter areas above Boulder Creek or the San Lorenzo River, such as alluvial fans or old river terraces; (3) along Boulder Creek and on the floodplain of the San Lorenzo River downstream of the burn area; (4) anywhere if rainfall is intense enough, as it was in the great 1982 storm that generated muddy floods, debris flows, and rain-triggered landslides that transitioned to debris flows on mixing with creek water (e.g., the Love Creek landslide).
The USGS hazard map does not show hazards outside the burn zone because to predict debris-flow run-out paths or areas of inundation downstream from burned areas requires detailed modeling of individual drainages. It is possible to predict the area that is potentially inundated by a debris flow or a muddy flood by entering the debris flow volumes predicted by the Basin Volume layer on the hazard map into computer models such as LAHARZ and FLO-2D, which essentially let debris flows of a given volume "run out" numerically over digital elevation maps. So far, this hasn't been done by the USGS or the County for the area around the CZU burn area.
Although the hazard map does not provide run-out paths of debris flows, one can use it to get a sense for the hazards on stretches of creeks below the burn area or the potential effect on Boulder Creek or the San Lorenzo River where creeks join them by looking at the probabilities and sizes of debris flows predicted for the basins upstream.
The segment hazard layer of the map shows

USGS "watchstreams" in blue

. These are streams that the USGS predicts will be subject to debris flows or sediment- and debris-laden floods if the basins above them generate a debris flow.
This coming winter, moderate post-fire debris flows could inundate low-lying areas where creeks emerge from the mountains. Larger debris flows or muddy floods could be expected to inundate properties on Boulder Creek or on the floodplain of the San Lorenzo River due to the addition of debris flows from feeder creeks. More lives and property are at risk from debris flows downstream of the burn zone than in the burn zone itself because there are few homes near the bottoms of steep creeks in the burn zone, whereas there are many homes and businesses located on relatively flat areas along Boulder Creek and the San Lorenzo River.
What about early warning systems for debris flows?
The National Oceanic and Atmospheric Administration (NOAA) and the USGS have a flash-flood and debris-flow early-warning system for recently burned areas in southern California. Based on National Weather Service weather predictions and real-time radar precipitation estimates, they issue Outlooks, Watches, and Warnings to emergency management personnel. These provide time for evacuation of susceptible areas. A similar system of coordination with emergency responders is being developed for the area around the CZU burn area.
Short-term warnings of debris flows can be provided by automated rain-triggered video cameras monitoring at-risk creeks and rivers. The USGS operates Automated Local Evaluation in Real-Time (ALERT) stream gauges that are designed to send data when water levels reach a predetermined level or change rapidly--information emergency managers need to decide when to issue short-term debris flow warnings. Debris flows rumbling down creeks cause vibration of the ground, which can be detected by seismometer-like devices. Short-term warnings do not provide time for evacuation, but in a situation in which debris flow hazards had not been anticipated, they may give people downstream time to move to higher ground. Given the speed at which debris flows travel and their unpredictable paths once they emerge from narrow canyons in the mountains, evacuation of high-risk areas ahead of predicted heavy rain events is the only guarantee of life safety.
What can I do to protect my home or business?
Watersheds take up to 5 years to recover from a wildfire, during which time there is flooding and increased runoff, but the largest debris flows happen during the first post-fire storm season, and it is unusual for sizable post-fire debris flows to occur beyond the second rainy season. Experience has shown that, at the large scale, measures to divert debris flows (engineered training dikes constructed to be oriented sub-parallel to flow paths to guide debris flows past critical areas and large deflection berms oriented at sharper angles to flow paths to force a major course alteration) or that trap sediment are more successful than efforts to stabilize debris on slopes. Stabilizing debris on slopes is far too expensive to apply widely in a burned area, but installing measures to prevent down-slope movement around an individual property or facility makes sense. Studies have shown that seeding burned areas is not significantly more effective than waiting for natural resprouting of vegetation. This is especially the case in the Santa Cruz Mountains where the natural plant communities are adapted to fire.

If your home is within the CZU burn zone
The Resource Conservation District of Santa Cruz County has an excellent website with an abundance of videos on how to protect your land after it has been burned in a wildfire, and what changes to expect in creeks and rivers. Landowners can also contact the RCD for technical advice. On Oct. 2, 2020, Santa Cruz County issued a Post-Fire Watershed Recovery Guide that is a concise statement of what to do and what not to do on your land, and how to assess your local debris flow hazard.
What about FEMA disaster assistance and flood insurance for debris flows?
If your home lies on a creek draining a burned zone of Ben Lomond Mountain, on Boulder Creek or the San Lorenzo River or their floodplains, or is located near where one of the creeks coming down Ben Lomond Mountain empties onto alluvial fans or river terraces, it may be possible to get FEMA disaster assistance for losses due to debris flows, and you may want to consider getting flood insurance.
FEMA disaster assistance
Information provided by Santa Cruz county government about FEMA disaster assistance has been contradictory. Initially the County said that even if your home was not damaged by the CZU fire, if you are in a zone that might be inundated by debris flows in the coming winters, you should apply at https://www.disasterassistance.gov or call the FEMA Helpline at 800-621-3362 by a federal deadline for individual and small business disaster assistance of Nov. 21, 2020. Registering for disaster assistance through FEMA can make individuals and families eligible for a variety of assistance programs, including rental assistance, essential home repairs, personal property losses and other serious disaster-related needs

not covered by insurance

. Later, the County said that pre-registering was not possible, and it was unclear whether debris flow damage would be considered part of the original emergency declaration.
Flood insurance
Debris flows (because they involve a flood of water) can be covered by flood insurance, whereas they generally are not covered by standard homeowner policies. (Landslides, slumps, and other earth movements are not covered by flood insurance or regular homeowner policies).
The cost of flood insurance is a function of where you live. See the following NOAA and FEMA sites for details:
To summarize: If you live in an area that historically has had a high-risk of flooding—the areas that indicated on the FEMA flood map (
https://msc.fema.gov/portal/home
)—your rates for flood insurance are going to be high. If you aren't in that high-risk zone, you are eligible for a lower rate per:
"Property owners in the moderate- to low-risk flood areas are eligible for lower-cost Preferred Risk Policies (PRPs). The PRP provides the same building and contents coverage at a more affordable price."
Be aware that most flood insurance policies have a wait period. Per https://www.floodsmart.gov/wildfires: "It typically takes 30 days for a new National Flood Insurance Program (NFIP) insurance policy to go into effect, so the time to buy flood insurance is now."
Santa Cruz County response to debris flow hazards
For information on how to prepare for debris flow hazards, read the National Weather Service Debris Flow Survival Guide. For information about the state of Santa Cruz County planning for debris flow hazards, for educating the public about hazards, and developing early warning systems and evacuation plans, see the special presentation to the Board of Supervisors on September 29, 2020 and the Fire Recovery Town Hall on October 7, 2020, co-sponsored by Supervisors McPherson and Coonerly, posted on Supervisor McPherson's Facebook page. In developing its plans, the County is also taking into account the recommendations of the Watershed Emergency Response Team Evaluation: CZU Lightning Fire. County staff have been doing more detailed mapping of structures at risk than could be done in the rapid time frame of the WERT evaluation, and this information will be used to refine evacuation plans.
Because the routes of debris flows are unpredictable in detail, and they are fast-moving, temporary evacuation from areas at risk in advance of predicted heavy rainfall events is best way to save lives. As of this writing on November 4, 2020, a map of areas at risk and evacuation zones as determined by the County is available on the Fire Recovery page on debris flows. Evacuation plans and instructions are still under development.

The experience of the volcanological community over the past 35 years (following the needless death of 20,000 people buried by an eruption-triggered debris flow in Armero, Columbia) is that to reduce loss of life it is essential to educate the entire affected population--not just emergency responders--so they understand the seriousness of debris flow hazards and will comply with evacuation orders, and understand debris flow processes sufficiently that they will have the situational awareness to react appropriately if the conditions seem ripe for production of debris flows even in the absence of a warning and evacuation order.
Hazards from Debris Flows and Sediment-laden Floods by Area
CALFIRE and the California Department of Conservation issued a report on October 1, 2020 entitled Watershed Emergency Response Team Evaluation: CZU Lightning Fire. This WERT report contains an elaboration on the debris flow hazard models produced earlier by the USGS. This report shows the locations of more than 100 areas that have "Values at Risk", i.e., homes and infrastructure that are at risk from debris flows on maps in Appendix C. These maps also show USGS "watchstreams" (streams that will be subject to debris flows or sediment- and debris-laden floods if the basins above them generate a debris flow), and show areas of creek and river floodplains considered by FEMA/DWR to be subject to winter flooding. After the fire, these areas will be more prone to flooding, even in the absence of debris flows, because of the elevated run-off expected from the burn zone. You can determine if your home or business is in a flood zone by looking at the maps or entering an address into the FEMA Flood Map Service Center at https://msc.fema.gov/portal/home.
Debris flow hazard map with USGS watchstreams and Values at Risk
(from the Watershed Emergency Response Team Evaluation: CZU Lightning Fire)
West side of Ben Lomond Mountain
The worst debris flow hazards are on the west side of Ben Lomond Mountain, where a combination of intense burning, steep slopes, and easily eroded sedimentary bedrock combine to make for basin probabilities of 60-100% of a debris flow forming in a single high-intensity rain event in West and East Waddell Creek, Scott Creek, Big Creek, and Molino Creek. Based on the hazards map, it wouldn't be surprising if Highway 1 were hit by debris flows this coming winter north of Davenport Landing and north and south of Ano Nuevo State Park.
The area around Bonny Doon has a low probability of debris flows, largely because the area is relatively flat, but also because the burning intensity was low to moderate. Homes along Empire Grade are unlikely to be subject to large debris flows because they are on a ridge. Davenport lies adjacent to the floodplain of San Vicente Creek, which along with its major tributary Mill Creek, head in the burn zone around Bonny Doon. Some of the tributary basins, by virtue of their large size, are capable of generating moderate-sized debris flows. So, although the probability and hazard are considered Low, there is a possibility of inundation of the lower reaches of San Vicente Creek, which is subject to occasional winter flooding in any case.
Highway 9 and 236 corridors
The Basin Hazards for the
Hwy 9
corridor are low to moderate. This is because the east side of Ben Lomond Mountain is so steep, the drainage areas are small, so the amount of sediment and debris that can be swept away is relatively small. All the basins but one draining eastward into the San Lorenzo River are considered Low hazard, due to the low probability (0-20%) of debris flows being generated. The exception is the
Clear Creek
drainage, which has a moderate (20-40%) probability of generating a large debris flow in an intense rainfall event. Much of
Brookdale
is built on an old alluvial fan emanating from where Clear Creek emerges from the mountains near the
Brookdale Lodge
. Were a large debris flow to come down Clear Creek, homes on that alluvial fan well above the level of the San Lorenzo River would be in its path.
Harmon Creek and Malosky Creek both have the potential to generate debris flows that would damage the town of Boulder Creek. The western part of town, including a cemetery, the elementary school, and numerous homes on both sides of Hwy 9, is built on a alluvial fan formed where Harmon Creek emerges from the mountain front. At the south end of town, homes on both sides of Hwy 9 built on the alluvial fan of Malosky Creek are at risk from debris flows. Both creeks are assessed as having a Low probability of generating a Moderate-sized debris flow during an intense rainfall event.
Several creeks that drain into Boulder Creek have Moderate hazards, including Jamison Creek, Peavine Creek, and Foreman Creek. All of these creeks have alluvial fans where they exit the mountains, and these alluvial fans have homes on them, e.g., parts of Jamison Creek Road and Fallen Leaf Drive, Acorn Drive and Brook Lane, Boulder Brook Drive and adjacent Hwy 236, respectively. Given the number of creeks feeding into Boulder Creek that head in the burn zone, low-lying homes along Hwy 236 from the Boulder Creek Golf and Country Club to the town of Boulder Creek are at risk of debris flows and muddy floods even though they are outside the burn zone.
The town of Boulder Creek was built at the confluence of Boulder Creek and the San Lorenzo River, and parts of it are subject to winter flooding in the absence of debris flows. Given that the section of the San Lorenzo River from Boulder Creek to just north of Riverside Grove would potentially receive debris flows from creek tributaries, as would Boulder Creek, the low-lying parts of the town of Boulder Creek are at risk of being inundated by sediment- and debris-laden floods.
South of Brookdale there are three creeks along Hwy 9 assessed as being capable of producing moderate-sized debris flows:
Alba Creek, Marshall Creek, and Fall Creek
. The latter two have homes in a hazard zone where the creeks join the San Lorenzo River. Fortunately, the probability of a debris flow being generated in these basins is rated as Low (0-20% in any given high-intensity rainfall event).
The probability of debris flows being generated in the CZU burn area adjacent to
Felton
is low (0-20%) due to low to very low burn intensity, and the predicted volumes are small, making the overall hazard Low. People whose property is only a few feet above
Fall Creek, Bull Creek, Shingle Mill Creek, and Gold Gulch Creek
should probably keep in mind that there is a possibility of debris flows affecting their property, though the hazard is considered Low. More likely is flooding due to elevated run-off from the burned area. The new Felton Library and the adjacent fire department are only a few feet in elevation higher than Bull Creek, potentially placing them at risk. The much greater risk is to
downtown Felton
, where a San Lorenzo River swollen with debris flows that enter from creeks upstream could overflow its banks. Areas such as
Covered Bridge Park and Felton Grove
could potentially see effects similar to or worse than the great flood of 1982.
The San Lorenzo River has numerous creek tributaries that head in the CZU burn zone from north of Riverside Grove to Felton, each increasing the probability that the river would be affected by a debris flow during an intense rainfall event. Areas particularly at risk of inundation by a San Lorenzo Rivers swollen with debris are low-lying areas in southern Ben Lomond, Highlands County Park, parts of Felton, Paradise Park and the floodplain of the river south to the town of Santa Cruz, where it spreads over a large area near the outlet of the river to the sea.
Instructions on how to determine if your home is in a debris flow hazard zone
• Go to the WERT report: https://www.smcgov.org/sites/smcgov.org/file/CZU%20Lightning%20Complex%20WERT%20Final%2010-6-20.pdf
• Zoom in on the hazard map at the beginning of Appendix C (page 70 in the .pdf) to find your home. Your home may be in a hazard zone if it is in, on, or near:
- one of the red, orange, or yellow watersheds (high, medium, low debris flow hazard),
- p

urple "streamwatch" streams

that are likely to become debris-laden if a debris flow forms upstream,
- FEMA flood zones shown with

blue diagonal lines,

or
- one of the colored dots.
I
f not, you aren't in a significant debris flow hazard zone. If you are in the burned zone you could experience small local debris flows on slopes above your home. Anywhere near streams coming off Ben Lomond Mountain, you could see local flooding due to greater run-off in the burned area.
If your home looks like it may be in a debris flow hazard zone, then find your home on one of the 26 more-detailed maps that follow in Appendix C of the WERT report. These maps have enough detail to locate your home precisely with respect to hazard zones. If you are near one of the numbered dots or areas, you can look up the site number on the "Value at Risk" table (starting on page 56 of the pdf) to see the description and the recommended action.
Relevance of debris flow hazards for reconstruction of SLVWD facilities
The Basin Hazard for the places where SLVWD collected and transported surface water on the east side of Ben Lomond Mountain before the fire, are Low and Moderate. This is mostly because the sizes of the watershed for the creeks draining the steep east side of Ben Lomond Mountain are relatively small, so there isn't enough material to generate large debris flows. The two exceptions are Clear Creek and Jamison Creek, which are estimated to be capable of large debris flows, but because the calculated probability of a debris flow for these two drainages are relatively low, 20-40%, their overall Basin Hazard is assessed as Moderate.
Relevant to current SLVWD planning is the example of Foreman Creek, where the District is focusing its first efforts to rebuild surface intake facilities. To maintain the integrity of the water treatment plant, it needs to have a supply of water, and Foreman Creek has the largest supply of surface water in the District watershed lands. The diversion structure is at 927', putting it in a creek segment that on the hazard map has a 20-40% probability of initiating a debris flow with a moderate segment volume; hence, it has a Moderate hazard. Probability for initiation of a small debris flow reaches 60-80% in the headwaters of the creek. These probabilities are for a single rainfall event of 1/4" in 15 minutes; the probability increases to 80-100% for the heaviest rainfall event that occurs in a typical year.
Current plans are to begin reconstruction of the Foreman Creek intake facilities in early spring after the heaviest winter rains. Even if the largest debris flows occur that first winter, continued small debris flows and muddy floods could continue for another year or two, potentially damaging intake facilities and, at a minimum, creating problems with turbidity and increased levels of dissolved organic carbon, iron, and manganese that affect water quality and are likely to require extra treatment. It is my personal opinion that the District may want to consider delaying reconstruction on surface water intakes near Boulder Creek for an additional year, planning to rely for the next two years on wells and increased collection of water from southern intakes near Felton that are in basins with low debris flow hazards (Fall Creek, Bennett Creek, and perhaps a reconstructed intake on Bull Creek).